Tessa - Ready For You
Posted - July 20, 2014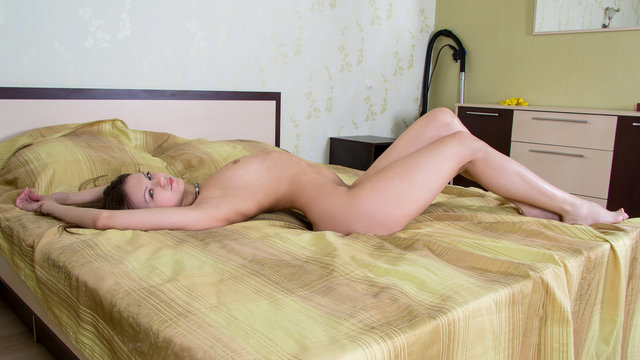 Dressed up as a naughty maid, Russian hottie Tessa pulls her thong aside and rubs her fingers up and down her juicy slit as she enjoys her landing strip pussy's tingling pleasure. After slipping out of her clothes, the brunette coed lays herself out on her bed and assumes some hot raunchy positions as she warms up for a hot finger fuck.
»»» End «««
Natalie Monroe - Glass Penetration
Posted - July 19, 2014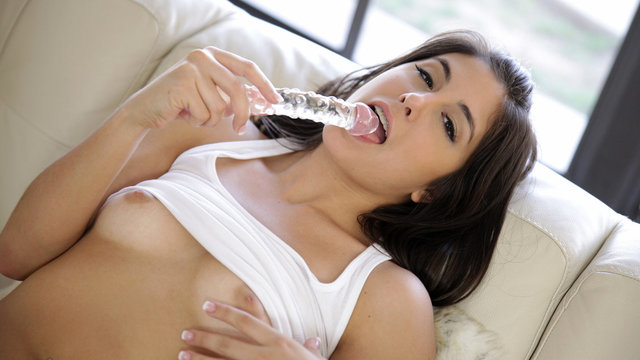 Luscious brunette Natalie Monroe can't keep her hands off of her delectable pussy, so she makes the most of her orgasmic touches. Soon this hot coed pulls out a glass dildo that is delightfully cool against her diamond hard puffy nipples, and just what her cock hungry pussy craves for a big climax.
»»» End «««
Sabrina Banks - Hello Beautiful
Posted - July 18, 2014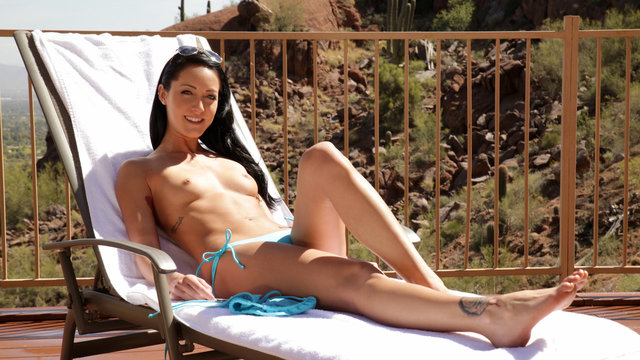 Sunbathing is 19 year old Sabrina Banks's favorite pastime, but this 19 year old American can't stand the thought of tan lines. After removing her bikini bra and briefs, Sabrina's hands keep wandering until they settle between her thighs. Using her talented fingers, the super skinny coed brings her needy snatch to a pulsing climax.
»»» End «««
Natalie Monroe - Cutie
Posted - July 18, 2014

Super sexy Natalie Monroe is a certified Nubile with a curvaceous body and all natural boobs that are a perfect handful. After peeling off her clothes to reveal her bronzed skin and tan lines, Natalie settles back on her bed and spreads her legs so that she and her dripping bald pussy can get intimately acquainted with her Magic Wand vibrator.
»»» End «««
Tessa - Her Favorite Toy
Posted - July 18, 2014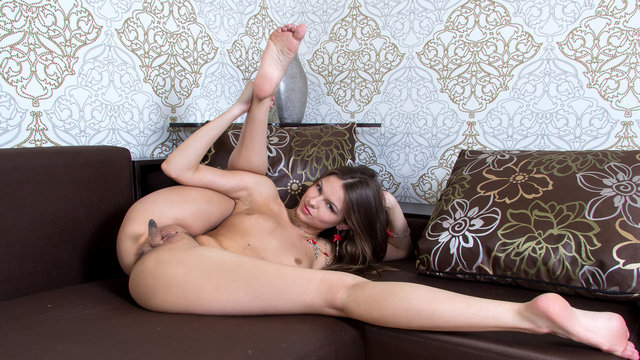 Sweet and flexible Tessa is a 24 year old Russian babe who keeps her curvaceous body flexible so that she's already ready for a good time in the sack. After peeling off her clothes and doing some stretches to warm herself up, she pulls her thighs apart and pushes a hard toy deep into her dick hungry pussy.
»»» End «««
Emily Grey - What A Beautiful Day
Posted - July 16, 2014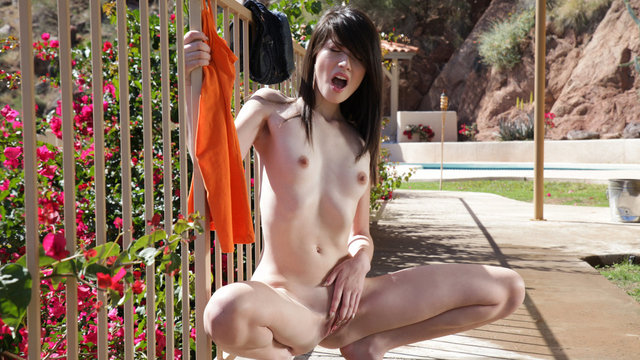 Watering her gardens reminds 19 year old Emily Grey of other wet things, like her dripping pussy that just can't wait to be satisfied. Overcome by horniness, she starts stripping right outside where anyone can see her, then leans back against a fence and gives her bald juicy snatch an orgasmic massage in the bright sunlight.
»»» End «««
Tessa - Cutie Pie
Posted - July 16, 2014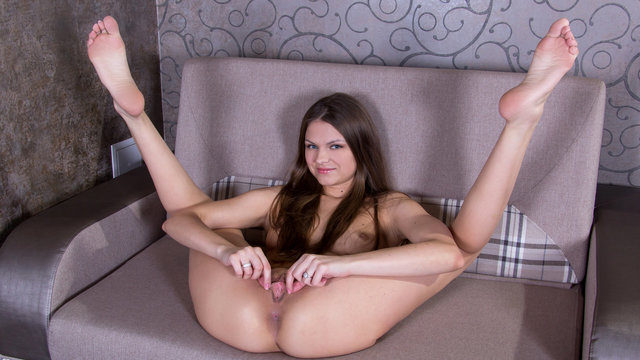 24 year old Tessa has a tight body with small tits and Hershey Kiss nipples that are always hard and ready for a good time. The brunette enjoys showing off, taking her time stripping and striking plenty of provocative poses that put her delectable landing strip pussy on display for our pleasure.
»»» End «««
Sabrina Banks - Cutie Pie
Posted - July 16, 2014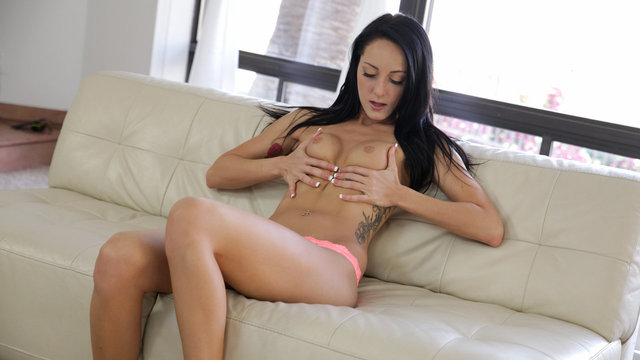 Sabrina Banks is a total California girl with a tanned fit body that looks great in a bra and thong. After slipping her hand beneath her panties and finding her landing strip pussy already wet, Sabrina shimmies out of her underwear and uses her magic fingers to go to town on her tight cock craving twat.
»»» End «««
Brooklyn Daniels - She Brought Her Toy
Posted - July 15, 2014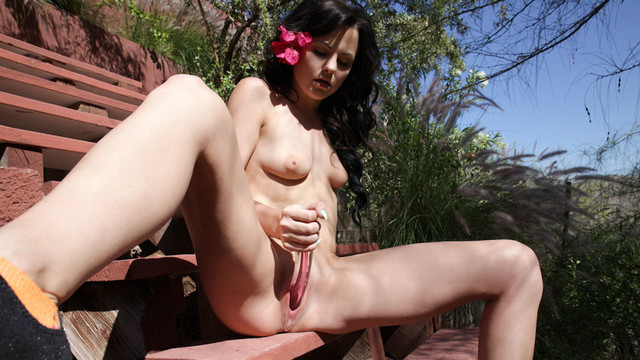 After a long hike, 19 year old Brooklyn Daniels can hardly wait to get naked and cool down her hot body. As soon as her clothes come off, the raven haired spinner can't keep her hands off of her full breasts and sensitive nipples. Soon she has brought herself right to the edge of pleasure with a bald pussy massage, and to send herself over the edge she uses a toy that plunges deep into her cock craving fuck hole.
»»» End «««
Natalie Monroe - Hardcore
Posted - July 15, 2014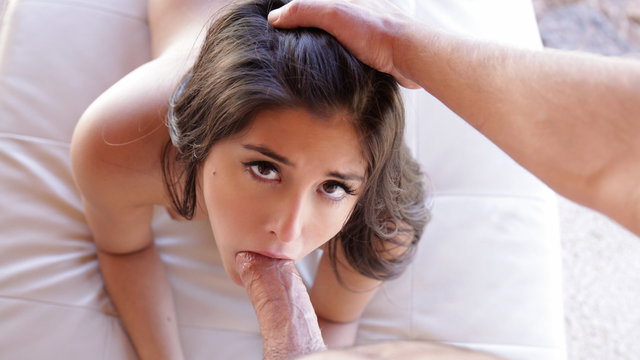 Hottie Natalie Monroe isn't afraid to let her man call the shots as she strips down and enjoys a big boob massage down by the pool. After peeling off her thong with plenty of bottom squeezing to encourage her along, Natalie is so hot and horny she can hardly wait to get it on! Natalie's man whets her appetite for a good climax by giving her bald pussy a good licking. When he's done eating her out, she gets down on her belly to wrap her puffy lips around his cock and give him a long wet blowjob. When they finally come together, Natalie sticks her lush ass up in the air to take her guy doggy style. They change things up, with Natalie finally riding her beau cowgirl style until she screams her orgasm! Instantly wanting her man to cum too, Natalie uses her talented hands and eager mouth to send him over the edge all over his belly, leaving a pool of delicious cum for Natalie to enjoy from her fingers.
»»» End «««