Lindsey Woods - Hot Fuck
Posted - January 7, 2015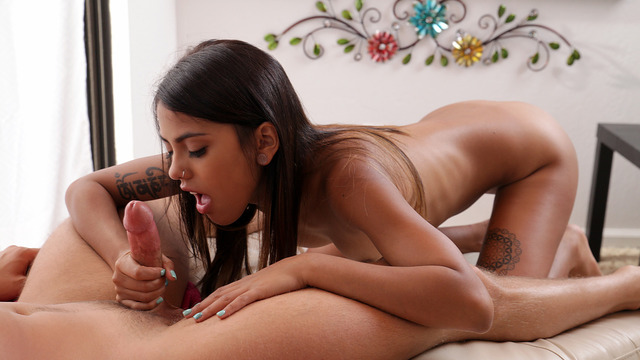 Tan Latina Lindsey Woods is sunbathing when a bout of horniness comes over her. After peeling off all of her clothes she comes inside to find her lover whose hard cock is exactly what she needs to be satisfied. She sucks her man off and then enjoys a bald pussy licking in return, and then gets her creamy twat filled by the big cock she craves! Getting up on her hands and knees Lindsey takes a doggy style pussy pounding and then rides her guy's big dick until she's had all the climaxes she can handle! While Lindsey's juicy twat is still pulsing with ecstasy, her man pulls out and seconds later cums all over her big butt and tiny waist until she is covered with his hot sticky love.
»»» End «««
Taylor Whyte - Hardcore
Posted - November 12, 2014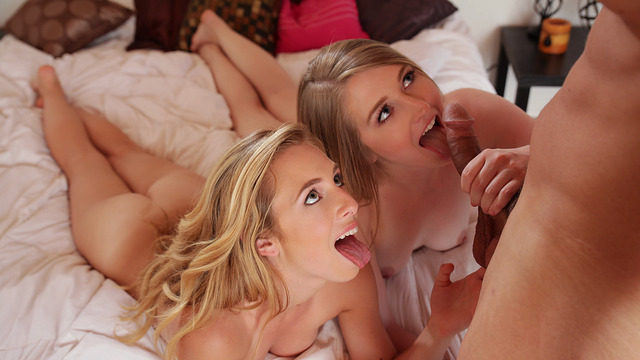 Lucky Ryan Driller gets two hot spinners to have and to fuck! He pulls off each of their camisoles while squeezing and shaping first Taylor Whyte's breasts and then Summer Carter's. Then he peels off their shorts and panties, leaving both girls deliciously naked. Taylor and Summer then take their turn to take off Ryan's clothes so that they can team up for a tandem blowjob that makes him lose his mind with excitement! He repays them by kicking off a raunchy fuck fest! He pushes his hard cock deep into Summer's dripping fuck hole while Taylor plants her juicy twat above Summer's mouth for a luscious pussy licking. Taylor gets a turn for hard fast stiffie ride next while Summer gets her snatch licked by Ryan's eager tongue. Then the girls each get up on their hands and knees and offer their weeping juicy pussies to be filled ad fucked at their man's whim. Next Summer climbs on top of Taylor, creating a horny pussy stack that Ryan can't get enough of! When both of the girls have had enough, they get down on their bellies and wait with eager open mouths so that Ryan can jack himself off all over their glowing faces. Taylor and Summer each get a mouth full of cum that they can play with and share as they bask in the afterglow of a good fuck.
»»» End «««
Cassidy Klein - Tiny Spinner
Posted - October 21, 2014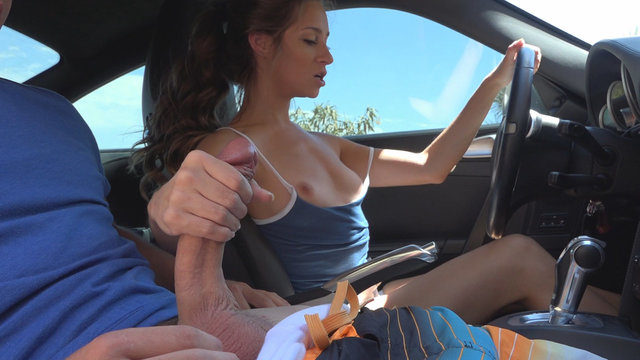 Getting naughty in the car, Cassidy Klein shows pulls down her top to unveil her small tits and then leans over to pull her man's jeans down and slide his rock hard cock into her mouth. Her spinner stature makes it easy for this brunette babe to maneuver inside the car much to her man's delight. They take things inside for more room to work each other over. Cassidy gets her lover naked and continues her interrupted blowjob, making sure that he is nice and stiff so that he can slam his dick deep in her landing strip pussy. After a few minutes of fucking, Cassidy gets her juicy twat eaten out with long sweeps of her lover's tongue, and then she climbs onto her hands and knees and offers her lush ass and puss to be taken doggy style. When Cassidy is tired and sated, she drops to her knees to eagerly wrap her lips around her lover's hard cock. She sucks with expert bobs of her head until her man can't hold on anymore and cums all over her mouth and nose in a well-earned facial.
»»» End «««
Alaina Kristar - Hardcore
Posted - October 14, 2014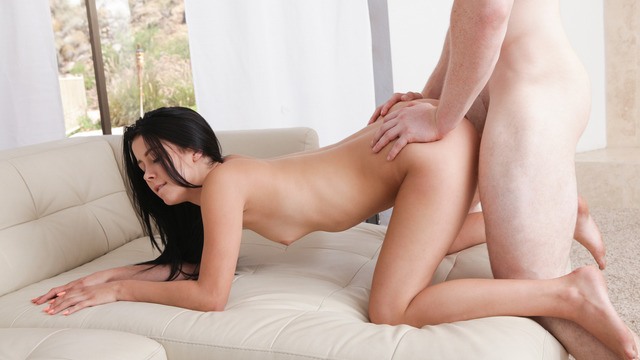 A morning workout is the perfect way for Alaina Kristar and her lover to work up a sexual appetite. They encourage each other's workouts with sexual favors, with Alaina sucking her guy's cock and getting her juicy twat eaten out in return. When their workout is complete, they take things to the couch so that Alaina's beau can lick and finger her bald puss into readiness and then fill her up with his big dick. A hot and heavy fuck fest follows, with Alaina giving her guy a stiffie ride before getting down on her hands and knees for some doggy style fun. When Alaina has had enough, she drops to her knees and uses her talented tongue to bring her lover to an explosive climax. His cum drips all over her face and mouth, leaving Alaina content and smiling her happiness.
»»» End «««
Cassidy Klein - Hardcore
Posted - September 10, 2014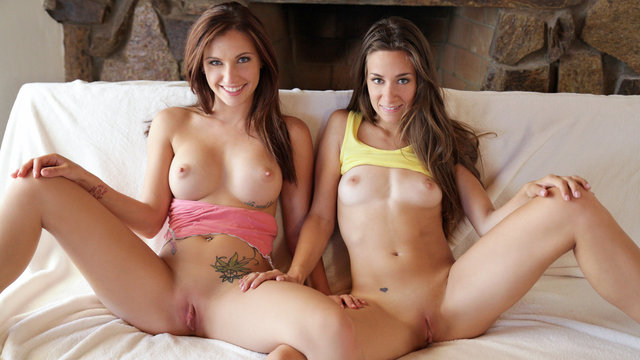 Mary Jane Johnson and Cassidy Klein are lovers on a mission to pleasure each other's horny bodies! They warm each other up, peeling off each other's bottoms so that they can take turns licking each other's pussies. Then they move things inside where they are joined by their lover. Now it's time for this pair of beauties to shine! They deliver a tandem cock sucking and then take turns sharing their man's dick as they enjoy a wild hardcore ride that gives them both the orgasmic pleasure that their sumptuous bodies crave. When they've both had their fill, Cassidy and Mary Jane resume their double blow job until their guy loses his load all over their Cassidy's waiting mouth so that she can snowball with Mary Jane to complete their wild romp.
»»» End «««
Angel Luvv - Hardcore
Posted - August 27, 2014

A sweet makeout session between Angel Luvv and her boyfriend gets gradually hotter and heavier as Angel's lover pulls up her dress to kiss and suck her small boobs, then relieves her of her clothes completely. He takes his time getting up close and personal licking Angel's creamy bald pussy, and she does the same with her guy's rock hard dick. Now that they are both warmed up, nothing will keep these lovers apart! They start out on the couch with Angel on her back spreading her long legs wide to welcome a big dick in her tight twat, and soon they shift to spooning so that Angel can enjoy her first climax. Finally the couple shifts to their feet so that Angel's man can dominate her from behind, delivering a hard fast pussy pounding that sends Angel moaning and pulsing over the edge again as her beau pulls out and releases his hot load all over her perfect ass.
»»» End «««
Olivia Devine - Hardcore
Posted - July 1, 2014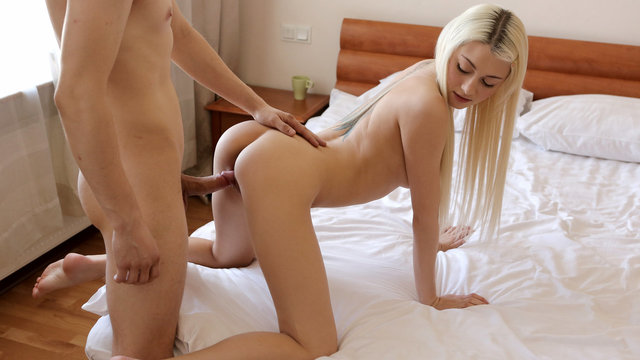 Cum hungry blonde Olivia Devine is very receptive when her man approaches her from behind and drops kisses all over her neck and shoulders. As he strips her down and plays with her small sensitive tits and then slides his hands into her panties, the blonde can't contain her moans of delight. After enjoying her soft wet pussy eating, Olivia repays her man by wrapping her eager warm lips around his rock hard cock and delivering a blowjob that gets her man hard and ready for a reverse cowgirl style ride. Next Olivia's man flips her on his back and gives her soft bald twat a proper pussy pounding that leaves her panting and moaning her pleasure. They soon switch things up to doggy style, where Olivia's beau finally reaches the limit of his endurance and pulls out at the last second to release his sticky load all over Olivia's smooth tanned back.
»»» End «««
Natalie Lust - Lust
Posted - June 18, 2014

When lovely Natalie Lust walks into the bedroom to find her man waiting, this little pussycat doesn't hesitate to get into the act. She strips from her bra slowly as she walks to the bed, rubbing her hands over her small boobs and flat belly before crawling up to pull her beau's briefs down to spring his hard cock free. Halfway through her enthusiastic blowjob, Natlie stands up to finish her seductive striptease. Then she settles back on the bed to start licking and sucking right where she left off. Although her pretty pussy drips with passion and desire, Natalie isn't interested in satisfying herself today. Instead she focuses completely on her man's pleasure, using her magic hands and warm wet mouth to work her beau into a sexual frenzy until he explodes his love juice all over Natalie's small tits. Pleased with herself and loving the touch of her man's cum on her skin, Natalie rubs her treat in with slow content strokes.
»»» End «««
Dakota Skye - Come To My Room
Posted - May 14, 2014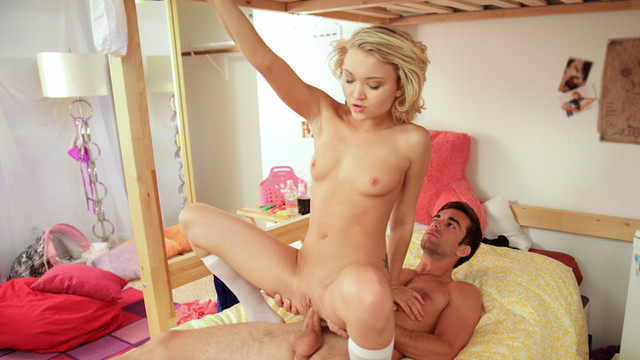 Sensual sexy Dakota Skye has asked her man to join her in her dorm room, and now this blonde coed is bent on seduction! She struts out in a crop-top and miniskirt that offer alluring glimpses of her tits and ass, and knee-high socks that complete the naughty schoolgirl outfit. Settling down on her bunk bed she gives her man a shit, masturbating in front of him as she entices him into her arms for a hot fuck. She gets her guy all warmed up with a big blowjob, licking and sucking his dick until he's rock hard and ready to slide deep into her tight wet pussy. Taking advantage of Dakota's bunk bed layout, the couple enjoys some standing sex with the help of the ladder and then some acrobatic cowgirl with the help of the slats from the top bunk. All the while Dakota moans her approval of the proper pussy pounding her man delivers until she comes apart in his arms as her climax explodes through her! Moments later her guy releases his load deep in Dakota's twat, glutting her with his cum as she enjoys the full sweet feeling of a proper creampie.
»»» End «««
Foxy Di - Hardcore
Posted - April 23, 2014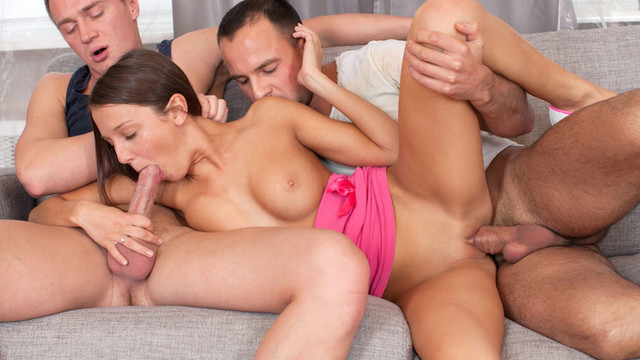 Buxom Foxy Di is learning what her cum craving body likes, and threesomes are high on the list! This hot coed has a soft spot for threesomes, and it's easy to see why. After giving her two men a double blowjob and then getting her bald soft pussy licked, Foxy takes turn filling her cum craving fuck hole with rock hard cock as she enjoys the attention of two lovers that are wholly devoted to giving her orgasmic pleasure.
»»» End «««