Gabrielle Hell - Pretty Blonde
Posted - June 30, 2013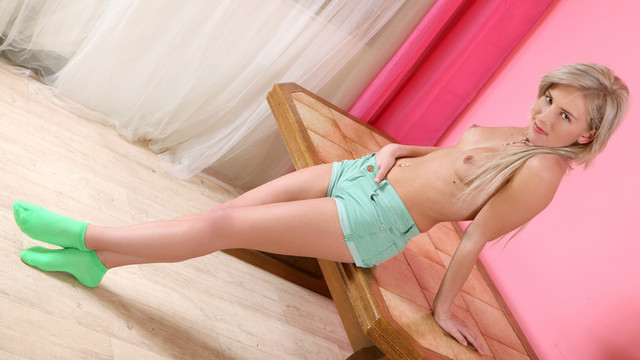 Gabrielle Hell may look sweet with her slender figure and her shy smiles with braces, but this sex kitten is eager to learn all about the pleasure her body is capable of! She explores her small boobs and her diamond hard nipples first, and then slides her hands down her flat belly to discover that her shaved pussy is already juicy with her need. Once she starts concentrating on making herself cum, the Russian babe climaxes hard and fast, filling the room with soft moans and gasps.
»»» End «««
Marta - Sweet Vibrations
Posted - June 30, 2013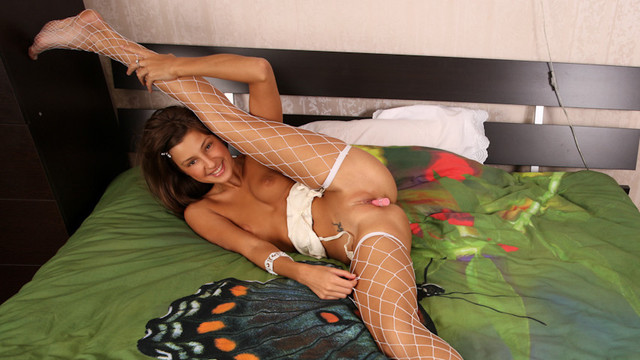 Sexy lingerie outlines 21 year old Marta's amazing thin body, complete with sheer stockings and garters. Her moves are playful but deliberate as she slowly removes the clothes that lie between her eager fingers and her bald pussy. When she finally reaches her prize, the flexible coed rewards herself by pushing a small toy deep into her tight hole and riding the magic vibrations to climax.
»»» End «««
Olli - Sultry Tease
Posted - June 30, 2013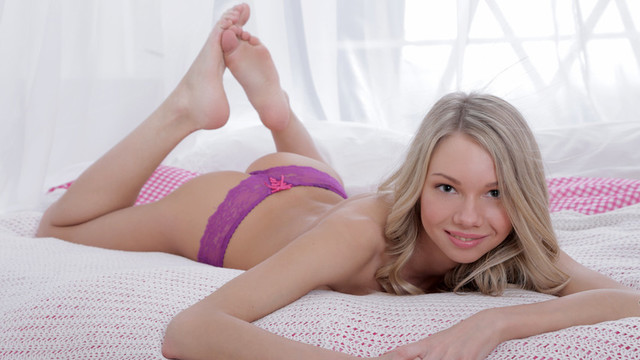 Sexy lingerie shows off Olli's superhot body. This Russian bombshell really knows how to work it as she peels her clothes off one piece at a time until she's down to nothing but her thong and her tan smooth skin! She bends over to show us her puckered little asshole and her perfect pink twat in one amazing view, and then she uses her fingers to spread the creamy goodness of her pussy juices all over as her magic fingers bring her pleasure.
»»» End «««
Chloe Amour - Sexy Illusion
Posted - June 30, 2013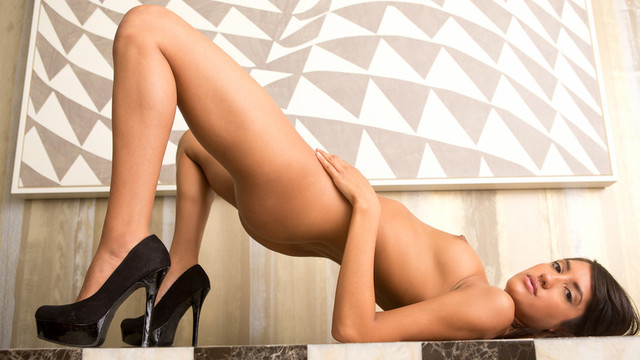 Chloe Amour is a 21 year old Latina who can't wait to show off her thin sexy body in her tight dress and short skirt. This tanned toned tease slides the hem up to expose her panties, flirting with the camera until she finally peels her dress off entirely. Her bald pussy gleams with her creamy juices as she shows off her shaved twat in many hot sexy poses.
»»» End «««
Gabrielle Hell - How She Likes To Relax
Posted - June 28, 2013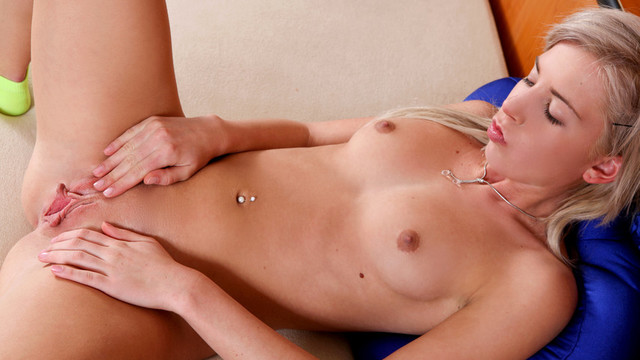 Russian sweetie Gabrielle Hell wants to meet a man and become his housewife, leaving her with plenty of time during the day. Fortunately, this blonde babe won't be lonely when she's alone. Instead, Gabrielle plans to masturbate her days away as she waits for a man to come home and fuck her. Even the thought makes her slippery wet and eager to cum around her long thrusting fingers.
»»» End «««
Marta - Long Legged Beauty
Posted - June 28, 2013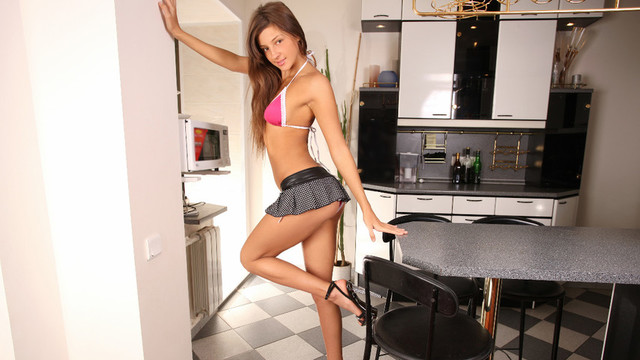 21 year old Marta was so popular that we knew we had to bring her back! Dressed in a bikini and a super-short miniskirt, this Russian babe decides to have some fun in the kitchen. Her bottom goes flying as she performs her own private striptease using the barstool, but things really heat up when Marta discovers how much pleasure her creamy wet snatch can get from convenient kitchen utensils.
»»» End «««
Olli - Ecstasy
Posted - June 28, 2013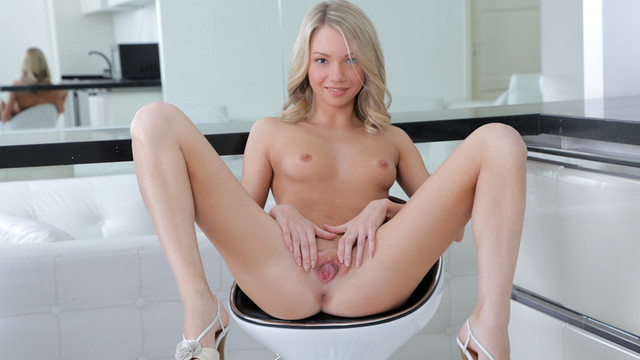 Blonde and beautiful, 21 year old Olli knows that she has an amazing body and she loves to show it off with sexy dresses and high heels. The cock craving coed can't ever keep her clothes on for long, though. Stripping out of her dress, she reveals her incredible body with her all natural tits and their little hard nipples. After rubbing and pinching her super sensitive boobs, Olli settles into a chair and gives her eager bald pussy a long hard rub.
»»» End «««
Chloe Amour - My Amour
Posted - June 28, 2013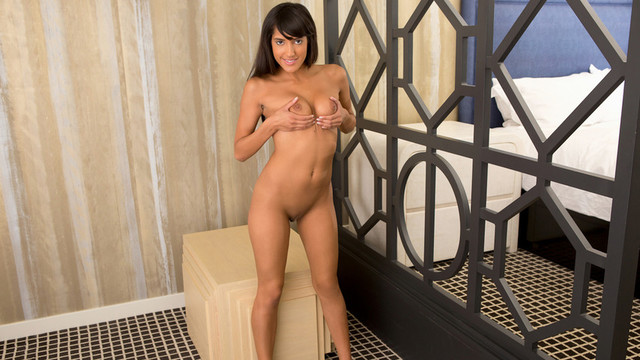 21 year old American girl Chloe Amour is flirty and friendly when she's dressed, and a complete wildcat in the bedroom! This lovely Latina can't wait to bare her full tits and pinch her diamond hard nipples before she achieves her ultimate goal of getting naked and assuming lots of provocative poses to show off her cock craving snatch.
»»» End «««
Melissa Black - Toys Are Fun
Posted - June 27, 2013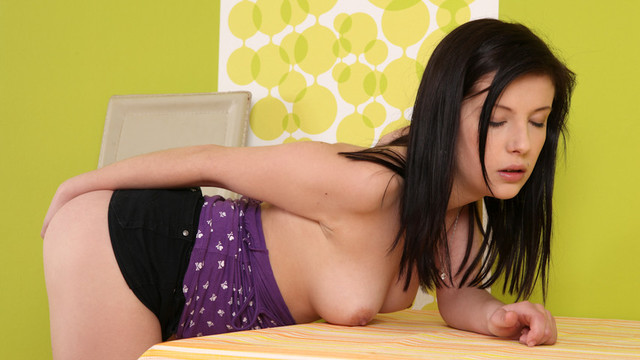 Melissa Black is a 19 year old spinner with lovely medium breasts and a slender perfect body. The best part of this cute coed is her love for sex! Her bald pussy is almost always wet and eager to be filled, and Melissa gives in to the temptation often. She starts out with just her stiff fingers, but soon switches to a long plastic toy that temporarily satisfies her cock craving snatch.
»»» End «««
Gabrielle Hell - All For You
Posted - June 26, 2013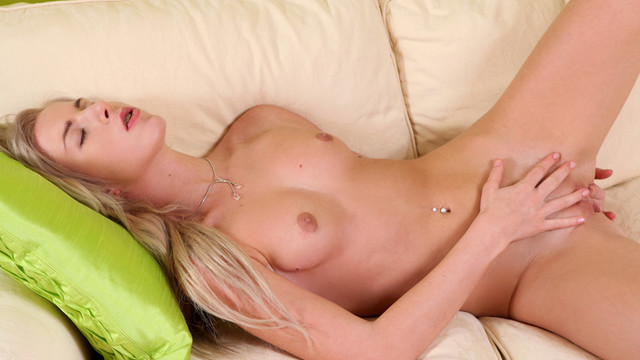 18 year old Gabrielle Hell is new to sex and still learning what she really likes, but that doesn't stop this adventurous Russian from exploring herself on camera. The blonde's eye-catching lingerie gives easy access to her small perky boobs, and she shivers as she squeezes her hard puckered nipples. When she is left in just her thong, Gabrielle pulls the material high into her tender pussy before she removes the final piece of her clothing and works her bald twat with one hand on her clit and the other fucking her tight creamy hole.
»»» End «««