Cassidy Klein - Hardcore
Posted - September 10, 2014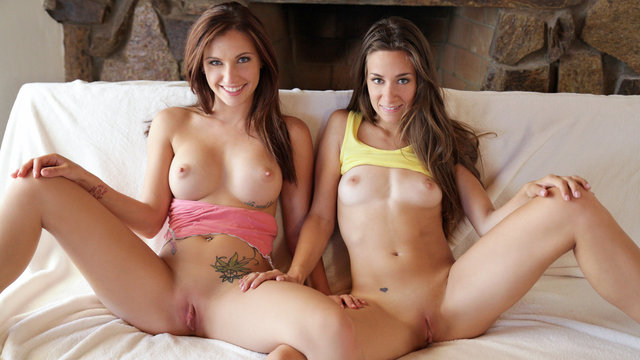 Mary Jane Johnson and Cassidy Klein are lovers on a mission to pleasure each other's horny bodies! They warm each other up, peeling off each other's bottoms so that they can take turns licking each other's pussies. Then they move things inside where they are joined by their lover. Now it's time for this pair of beauties to shine! They deliver a tandem cock sucking and then take turns sharing their man's dick as they enjoy a wild hardcore ride that gives them both the orgasmic pleasure that their sumptuous bodies crave. When they've both had their fill, Cassidy and Mary Jane resume their double blow job until their guy loses his load all over their Cassidy's waiting mouth so that she can snowball with Mary Jane to complete their wild romp.
»»» End «««
Lilly Evans - Hardcore
Posted - March 20, 2013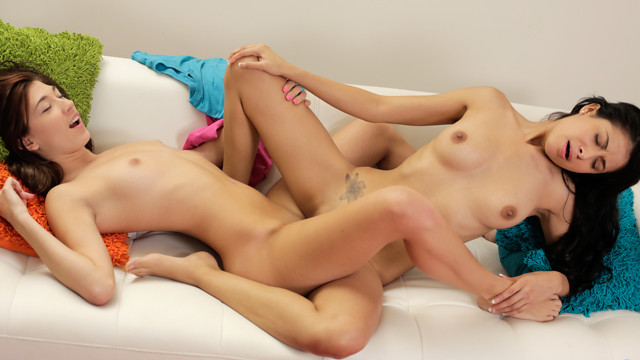 Lilly Evans is a 23 year old Latina cutie who loves having sleepovers with her girlfriends. Her favorite part is when flirty pillowfights turn into something a lot sexier and more fun. Laughter turns to sighs of excitement as Lilly and her friend help each other undress and then take turn licking each other's tits. Lilly's friend uses a toy to fill her lover's wet shaved pussy. Before long, the girls arrange themselves in a 69 position to lovingly lap at each other's twats until they are both moaning in ecstasy.
»»» End «««
Natasha Malkova - Hardcore
Posted - January 23, 2013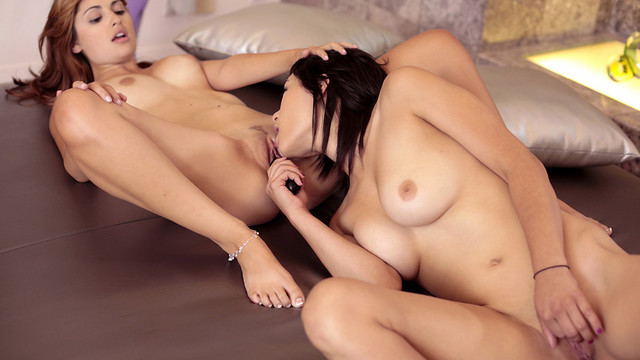 Natasha Malkova is a California girl who is totally into making out with other girls. This brunette beauty is lucky enough to pair up with a female lover who can't keep her hands or her mouth off of Natasha, and the results are hot as hell! Watch as Natasha's woman licks and massages her lover everywhere before taking a vibrator to her wet needy pussy. The girls finish things off by indulging in some hot 69 action.
»»» End «««
Ruth Medina Lesbian Pussy Play
Posted - March 20, 2012


Twenty-one year old Ruth Medina is an exotic beauty from Hungary. Even though she considers herself to be bisexual, she's only met one girl who attracted her enough to want to take things further. "I think girls are beautiful in every way, but I don't sleep with them just for the sake of being bisexual,", she explains. "I have to feel an undeniable sexual attraction for them as well." Understandably, Ruth was a little nervous about meeting the girl who she had agreed to do a girl-girl photo shoot with. As soon as she met the stunning blonde Grace Hartley though, any reservations she had immediately melted away. The two had an instant sexual chemistry and couldn't wait to get started.






Ruth took her time undressing Grace, kissing and caressing her smooth, tanned body as she went. "I think I found girl number two," she told us with a wink. When she was fully naked, Grace knelt behind Ruth on the bed and took her turn. She pulled Ruth's hair to the side and began kissing her neck as she unfastened her bra. Reaching from behind, Grace gently tickled and pinched Ruth's dark nipples until they stood fully at attention. Ruth closed her eyes and got lost in the moment, soaking in every sensual moment. Grace's hot naked body pressed against Ruth from behind as she slipped off her cotton panties. Grace laid her black-haired lover back on the bed and ran her hands gently down Ruth's inner thighs as she brought her mouth closer to the moistening pussy hidden between them. Spreading Ruth's legs open, Grace touched her tongue to Ruth's tight shaved pussy, lightly at first. Ruth's entire body shuddered as Grace's tongue worked its way from her clit downward, along her swollen slit until it reached her tingling wet hole.






After several steamy minutes of intense pussy pleasure, Grace pulled Ruth up onto her knees and bent her forward, rubbing her hands over Ruth's hot little ass at the same time. She tickled and teased Ruth's wet pussy with her fingers, running them so gently over Ruth's swollen pussy lips that before long, Ruth was rocking her hips and pushing her pussy against the fingers that were getting her so worked up. All this teasing was just making her sexual desire stronger than ever, and she wanted... no, needed... those fingers inside her. As soon as Grace pushed the tips of her fingers into Ruth's warm wet hole, a moan escaped from Ruth's lips that was so loud it was easy to tell she was on the verge of cumming already. Grace continued having her way with Ruth and thoroughly enjoyed every minute, but Ruth wasn't finished yet. She pushed Grace back on the bed and simply stated "Now it's MY turn." To see Ruth's entire lusty lesbian set, go to Nubiles.net, updated weekly with some of the hottest girls on the net.



»»» End «««
Leila Lesbian Hardcore
Posted - February 28, 2012


Leila is an incredibly cute 20 year old from the Czech Republic. Her adorable smile shows off her sweet side, and her diagonal auburn hair and tiny lip piercing show that she's got an even bigger playful side. Leila's an adventurous spirit by nature and is always up for something fun. So when we asked her if she would be interested in a girl/girl photo shoot, she jumped at the chance. "Well I definitely like boys better," she told us before the shoot. "But who doesn't love a little lesbian action every now and then?" Her eyes lit up when she saw beautiful blonde Keithy. The two hit it off right from the start, but it was Keithy who took the lead. Leila hadn't had many lesbian experiences before so she was happy to follow. The blonde took Leila's hand and led her to the sofa, where she began running her fingers lightly down Leila's neck. The two began kissing gently at first, and soon Keithy had Leila's shirt pulled down off her shoulder, exposing one petite, perky breast. For somebody who claims to like boys so much better than girls, Leila sure was getting turned on by having another girl teasing her tiny nipples.






After some more kissing and gentle teasing, Leila seemed to be getting more comfortable in the role. She pulled Keithy's blue tank top down and gave her puffy nipples a couple of good squeezes before pulling her own shirt down around her waist. I'm not sure she even realized it when her legs spread open and she moved her body closer to her new girlfriend's. "I didn't even know this was such a turn-on for me," she said to the camera, almost as if she were making a naughty confession. "Maybe I just never met the right girl before!" She turned her attention back to the hot blonde, who was now directing Leila onto her knees with her back toward the camera. Leila made no objection when Keithy pulled her panties down slightly and ran her hand over her tight round ass. With her other hand, Keithy pulled the crotch of Leila's panties to the side, giving a glimpse of the sweet little pussy hidden inside.






It wasn't long before the two were completely wrapped up in their own little erotic world. It was like they forgot the cameras were even there. They removed each other's panties and were soon exploring Leila's naked pussy together. Her legs were open on the sofa and her hole was getting wetter by the minute. Leila reached around her leg to slide a finger inside and at the same moment, Keithy slipped one of her own fingers in with Leila's. "Can you feel how wet my pussy is?" she asked Keithy, who was now pushing her finger in and out as Leila began to wiggle her hips. Things were really starting to heat up now! See the entire erotic set, along with all of Leila's other naughty photos and videos, only at Nubiles.net.



»»» End «««
Tess Teen Lesbian Hardcore
Posted - July 19, 2011


Tess is Nubile's latest Czech babe. This hot brunette prefers the ladies, and we caught her in the middle of some hot lesbian action. She and her girlfriend had planned to go hiking, as Tess loves having sex out in the middle of nature, but the weather didn't permit. Tess opened all the blinds in her living room so that she and her lover could get as close to nature as possible while they make love. And there's really nothing more natural than the sensual exchange between two beautiful women. They never did get dressed this morning, so nothing but a fierce desire was between them while they waited for the morning coffee to brew. Tess tenderly kisses her lover 'good morning', and before long, each kiss becomes more sensual, more sexual, until they're both too weak in the knees to stand.





Tess' girlfriend can't wait to taste her sweet teen pussy, and lays her back against the windowseat. Kissing her lips, her breasts, the girlfriend works her hot kisses farther down Tess' body. Eventually, after much teasing, she finds the sweet spot, and begins to lick and lick Tess from her clit to the back rim of her pussy. Moaning, Tess' breath comes faster, shuddering with delight as her lover finds each one of her favorite spots. With her hands stroking Tess' ass, her girlfriend takes turns spanking and kissing her firm and full teen ass before burying her tongue deep inside Tess' teen pussy. Tess explodes in ecstasy, her youthful body tensing and releasing as each wave of pleasure courses through her. Tess sits up, kissing her girlfriend full on the mouth to thank her for the pleasure; and preparing her lips and tongue to return the favor.





Tess kisses her girlfriend passionately, letting her hands wander over her blonde babe's body, before slipping down to her knees to kiss and lick her girlfriend's wet and sweet pussy. But her girlfriend wants more. With stealth and efficiency, Tess retrieves a clear acrylic dildo from a nearby drawer. She alternately rubs her girlfriend's clit with her toy, and then her tongue, until the girlfriend begs to feel it inside of her. Tess is only too happy to oblige, gliding the toy, knob by knobby inch, in and out of her lover's sweet teen pussy. Tess hungrily laps up all the sweet nectar that runs from her lover's pussy, flicking her clit with a velvety tongue, until her girlfriend screams out with pleasure. Talk about your morning sex! These sweet teen lesbians are hot! Want to watch the video, and see just how sexy smooth these babes are, firsthand? Please do! Two sexy sets of legs open up for your pleasure, exclusively at Nubiles.net.


»»» End «««
Bernice Sexy Babysitter
Posted - June 24, 2011


Bernice is getting ready for bed, but she's not spending the night alone. She's got her best friend, and coworker, over for the evening. Though it's been a long day for this bodacious babysitter, there's always time and energy for some sexy play! Lounging on her bed wearing a pink striped, sheer babydoll nightie, Bernice is more than happy to tell her best friend about her sexy encounter earlier this week. She smiles coyly, saying what a great kisser he was, and how she just couldn't help herself when he started to undress her. She had to feel him inside of her. Bernice's buddy listens intently as she reveals all the details of her hardcore encounter. But Bernice does more than kiss and tell; she's got a hidden agenda.





Bernice has been fantasizing about having her first all-girl sexual experience. Now, she's kissed plenty of girls, including her best friend on several occasions, but she's never gone all the way. Tonight, however, Bernice wants to go all the way with her girl friend, and she's planned for the occasion by buying a brand new pink dildo to fuck her barely legal bestie while she's eating her pussy for the first time. As Bernice continues telling her friend all about her sexy experience, she begins to remove her g-string, allowing her glistening teen pussy to peek back at her now aroused friend.





As they continue talking about all the naughty things that turn them on, Bernice shares with her friend that she's always had a crush on her, and that she'd like to do more than kiss her friend. Pulling off her babydoll, Bernice brilliantly models her lithe body, her teen titties embellished with kitten paw tattoos, and her tanned skin that's aching to be touched and caressed by soft female hands. Much to her satisfaction, her friend echoes her own desires for Bernice, and confesses that she was secretly hoping that Bernice would offer her beautiful body to all the pleasure they can share. Bernice made sure to have a cleanly shaved pussy, on the off chance that she and her girlfriend would 69, and her lips began to swell with anticipation. As you may have guessed, Bernice has never been with a woman before, and this will be her first time eating pussy! I know you want to watch! Nothing could be hotter than two girls going at it. But you can only find young, tasty teens at Nubiles.net.


»»» End «««
Tiffany Tyler Lesbian Lover
Posted - May 24, 2011


Tiffany Tyler is one hot, high-class babe. An affirmed bi-sexual, Little T takes all the sexual pleasure she can get- that is, when she's not busy getting older men off so she can afford her next shopping trip. But she's no "lady of the night". She's a bona fide gold-digger! Her girlfriend doesn't seem to mind, though, and rewards Tiffany Tyler with some well-earned sexual bliss. Licking her nipples, and kissing her tiny titties, Tiffany Tyler gets so hot, she has to remove her black teddy. She wants her lover's lips all over her tight torso! There is something so sexy about two women getting some action in the middle of the afternoon!




Tiffany Tyler bends over to receive a little spanking from her lover. Apparently, Little T was out a little too late with her latest conquest, and only brought home a single set of glittering gems for her lover. What a naughty girl! Strapped stilettos kick wildly in the air as Tiffany Tyler gleefully receives each swat, promising her lover she'll be a good girl. Her toned ass jiggles with each movement, and her lover's nipples grow harder from the effort. Finally, Little T's lover massages her swollen rump, slowly working her hands until they've wandered over to find a very wet, very swollen pussy. Want to watch Tiffany Tyler get fingered by her fellow gold-digger girlfriend? Do you like lesbian debutantes? Follow your fingers as fast as you can to Nubiles.net!




Finally free of the all the lingerie, a very naked Tiffany Tyler kisses her girlfriend with a passion few can match, as she grinds away at her lover's pussy with her own. These long-haired babes definitely turn us on as they show us how lesbians make love! Wearing only black silk stockings and stiletto heels, nothing stands on the way of the access they have to each other's youthful bodies. Want nothing standing in your way while you watch these two go at it? Nubiles.net is the place to go for unparalleled access, including high resolution video of this encounter, and so much more! Take your pick from thousands of twenty-somethings just waiting to turn you on!

»»» End «««
Girl On Girl
Posted - December 24, 2009


Rihanna Jamuel makes out with fellow Nubile Monika Benz, in a hot girl on girl teen video that is full of soft moans and pure orgasms! Watch as these two beautiful spinners suck on each others small tits and moist pussies exclusively at Nubiles.net!




The passion that is ignited when these two teen babes start caressing each other is undeniable! These two cuties take it to the next level! They do everything from eating pussy to finger banging to fucking each other with different toys!




You can tell these beautiful Nubiles love to make each other cum and you will be grateful to have seen it! The only place you will find this incredible lesbian teen hardcore video is Nubiles.net, so what are you waiting for?

»»» End «««
Two Tiny Teens
Posted - December 16, 2009


Nubiles.net brings you Sara James, kneel down and pay homage! This super petite blonde teen was kind enough to make out with her best friend in the pool so we can all die happy! Watch the hot outdoor teen make out session at Nubiles.net!




Two tiny teens sitting by a pool, bikini bottoms fell down and men began to drool... ha ha. Entertain yourself with two stunning spinners licking each other's tiny tits and finger banging each others fresh tender pussies.




These two precious teenies will bring you a joy that you have never known. They will satisfy all voids in your life! Don't let the opportunity to watch Sara James' bisexual teen video pass you by!

»»» End «««